With my husband going "keto" I have created a meal plan that is still nourishing and delicious but is also keto/low carb friendly ….and full of summer flavour. Three of the four recipes are cooked on the grill so you can be outside and enjoy that summer barbecue flavour. The paleo chicken fingers are the only meal that will have you cooking inside but this is one of my favourite recipes that the kids love too….and it's low carb.
If you aren't familiar with a keto diet here is a little info for you….
A ketogenic diet is a low carb, high fat and moderate protein diet where the body uses ketones (fat) for fuel instead of glucose (carbs). It was originally developed to treat individuals suffering from seizures. It has been well studied and testing in the past few years and as of yet seems to be a highly effective weight loss strategy for many. It is also known to provide mental clarity, improved mood, reduce hunger and provide more and  lasting energy. I have experimented with this diet in the past. It is not for pregnant or nursing mamas!! I plan to do a little more research and may  use my body as a guinea pig once my little guy is completely done nursing. This diet seems to work really well for most men. For women however, there are some reports of hormone imbalance. And that's the biggest reason why I want to fully research it first. If/when I test out this diet on myself I will give you reports on how it is going. Have you tried a ketogenic diet? Are you on one right now? Or are you curious about it and have questions? Hop on over to my Facebook page and lets chat!
Make it low carb by eating as is, topping on a bed of greens or using a "lettuce wrap". Add sliced avocado and green onion.
Make it gluten free with a corn tortilla or lettuce wrap.
If you aren't a fan of cooking with foil (I try to really limit my use) you can fry this up in a frying pan instead. Or to make it a little safer add a sheet of parchement between the foil and food.
Lettuce Wrapped Burgers with Coleslaw
If you are gluten free make sure you check that the patties are in fact gluten free (some add bread crumbs).
I don't miss the bun when I load it with yummy toppings like mustard, pickles, onion, sauerkraut, slice of bacon, tomatoes, relish… For lowcarb/keto just skip the tomato and ketchup.
These chicken fingers are low carb/keto friendly! Have then with a big salad for a nourishing, satisfying meal. Or with veggie sticks and guacamole for an "appetizer night" supper. I usually make home fries with this for the kids…and a little for me. Make extra chicken fingers and fries so you have some quick freezer meals at hand (just pop in oven and reheat). For the fries I simply drizzle the cut potatoes with coconut oil and sea salt. Bake at 425 for about 45 minutes or until browned, turning halfway.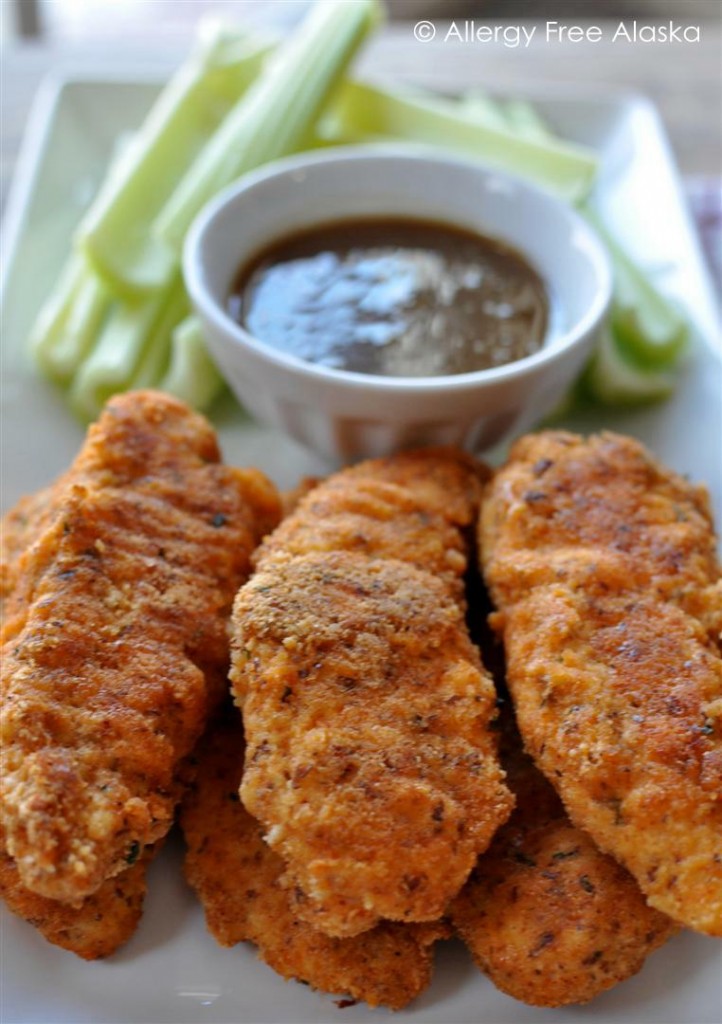 For Keto friendly omit the honey in the marinade and use this simple guacamole recipe in place of avocado salsa.
Have a great week mamas!
SaveSave
SaveSave
SaveSave